Today's blog will look at how you can utilize Google Ads to grow your business and reach the heights that you have always dream about.
Grow Your Business with Google Ads
Google Ads can help you reach an audience to transform them into customers. Through Google Ads, you get access to a wide range of advertising products that are designed to help you reach a wide audience. Google Ads is built around three principles: relevance, control, and results. Relevance means connecting with the right people at the right time while control refers to having control over the budget that you want to set for your ads. Results are the data and analytics you can use to improve on your ads (Skillshop, 2019).
There are various campaigns you can centre your objectives around such as driving sales, increasing website visits, influencing consideration, building awareness, or promoting an app. There are also different types of campaigns you can have such as search, display, video, shopping, and app (Skillshop, 2019).
Search ads show up next to Google search results when people search for businesses like yours and these campaigns make sure potential customers can notice your brand, consider your product, and act (Skillshop, 2019). Display ads can appear on over two million sites to increase exposure and reach audiences with niche interests.  Video ads will show up within streaming services such as YouTube and can help bring your brand's story to life. Shopping ads can help promote your product in Google Shopping and provide the customer with detail about your product or boost traffic to your website. Lastly, app campaigns run ads on thousands of mobile apps and sites to increase engagement, app installs, and other actions to gain awareness (Skillshop, 2019).
Through Smart campaigns, you choose your business goals and the machine learning takes over the rest! This is great if you have never used Google Ads before so you can spend little time trying to figure out how you are going to run things. You can optimize your campaign based on devices, locations, language and much more. You can also pick an adjustable budget with a bid strategy that works for you (Skillshop, 2019).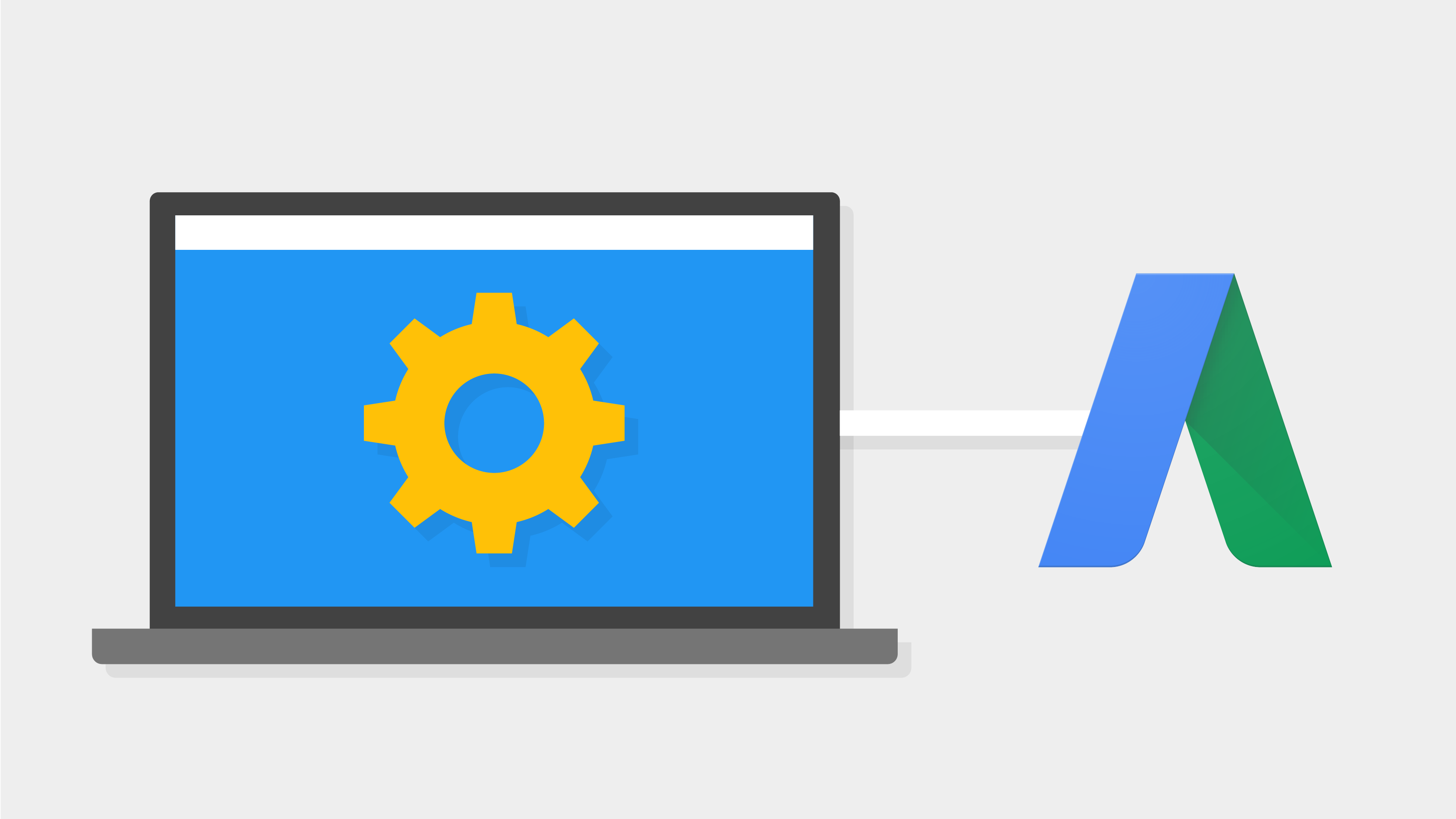 Explore the Values of Google Search
Every day, 3.5 billion searches are made on Google looking for information, online shopping, getting directions and lots more (Skillshop, 2019). With Google Search campaigns, your ads will show up with the search results when people are looking for something similar to what you are offering. When setting up a Search campaign, you should consider things like where you want your ads to be seen, how much you want to invest, what you want to share in your ads, and what keywords will match your customer's search terms.
Campaigns are created around a marketing goal based on how you want your customer to act. Search campaigns can be set to increase sales, leads, or website traffic. The Networks setting will allow you to pick where you want your ad to appear, such as on Google sites like Shopping, Maps, or Google Play, or non-Google sites (Skillshop, 2019). The Devices setting will let you pick if you want your ads to show up on mobiles, desktops, or tablets. You are also able to target customers in a specific geographic location or by the language that the site is in. The budget setting will let you decide how much you want to spend, and the bid strategy will be based on how you want to pay for the interaction that customers have with your ads, such as pay per click (Skillshop, 2019).
Creating ad groups will give you more control so you can get the right message to he right customers. These ad groups are based on keywords, themes, or products (Skillshop, 2019). Try to match these keywords to what your customers will be searching. One of these ways is the broad match where it can reach the widest audience possible and is a good fit when you don't want to spend time thinking of variations of keywords. Another way is to use a phrase match where only keywords within quotation marks will return your ad as a result. Third, there is exact match which involves searches with brackets containing keywords. You can also add a minus sign to remove certain keywords from showing up (Skillshop, 2019).
Creating a list of keywords can be very time consuming as well as building ad creatives. Dynamic Search ads can help you get a wider reach by understanding your site and using it to customize and target your ads (Skillshop, 2019). They give you a lot more control over targeting options and save you time!
Understand the Google Ads Auction
Google Ads have an auction system that ranks ads and determines the cost per click called an Ad Rank (Skillshop, 2019). Users want to see relevant ads and advertisers want to show relevant ads to boost engagement. Google uses a second-price auction system where the advertiser only has to pay enough to beat out the competition. Through this, Ad Rank shows the highest bidder at the top, with the second highest in second, and so on.
Advertisers only pay if their ad received a click. The quality of their ad is measured in three factors: click through rate (CTR), ad landing page experience, and ad relevance (Skillshop, 2019). The landing page for your ad should be navigable, transparent, and help the user complete their intended task. Higher quality ads lead to lower costs, improved ad positions, and overall ad success.
Quality Score is measured by the quality of your ads, keywords, and landing pages. To improve ad quality, work on increasing CTR by being specific, experimenting with calls to action, and highlighting the uniqueness of your product or service (Skillshop, 2019). You can also improve relevance by adding negative keywords, being local in region, being specific on mobile, and adding relevant terms in your ad copy. As for you landing page, make sure that it loads fast, is device friendly, and trustworthy.
Deliver the Right Message with Text Ads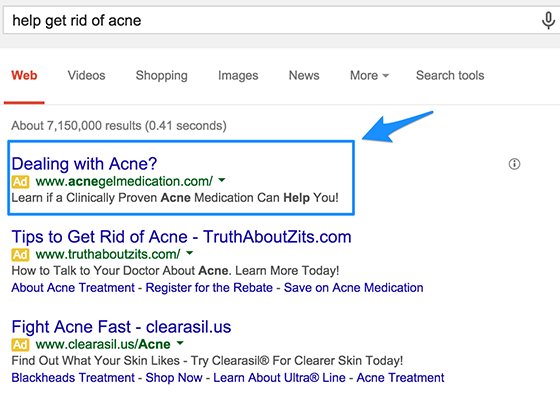 Text Ads are exactly as the name implies; ads made of text! They get your businesses out there when people are searching for products like yours. Text ads must be informative, relevant, and engaging. They are made up of a headline, URL, and a description. Each field can have up to 90 characters for you to get your point across and reel the customer in (Skillshop, 2019).
The more ads you create, the more chances of success you will have at an auction. Having multiple ad creatives will give you the option to optimize your ad rotation. Ad groups with three or more high quality ads can receive up to 15% more clicks compare to groups with just one or two (Skillshop, 2019).
Responsive search ads adapt to customers' searches to show more relevant messages. This is through adding in multiple headlines, URLs and descriptions (Skillshop, 2019). By providing variations of these, your ad is more likely to be relevant to the customer. Responsive search ads increase flexibility, relevance, reach, and performance of your ad. It is recommended to provide 15 headlines and four descriptions for a single ad.
Make Ads Relevant with Search Ad Extensions
Ad Extensions can improve a user's engagement and experience by giving them the relevant information they are looking for such as general information, product info, location info, etc. This must be done quickly and accurately because there are many alternatives for the users to get results. Ad Extensions increase the likelihood of engagement by providing the user with relevance and increase the quality your ad by directly impacting Ad Rank (Skillshop, 2019).
There are extensions such sitelinks which direct people to certain areas on a website, callouts which highlight valuable information about a product, and structured snippets which give a glimpse into what you are offering. There are also extensions for locations, affiliate locations, calls, apps, prices, promotions, and messages. Use as many ad extensions as you think is right for your business and consistently update them. Be sure to monitor the performance of the ad extension so you can adjust along the way (Skillshop, 2019).
Google can also recommend ad extensions automatically without any action from you. There are advertiser provided extensions that can also be used over the automatically generated ones. Seller ratings can also be shown to let customers know about how others have rated your product or service (Skillshop, 2019).
Increase Efficiency with Automated Bidding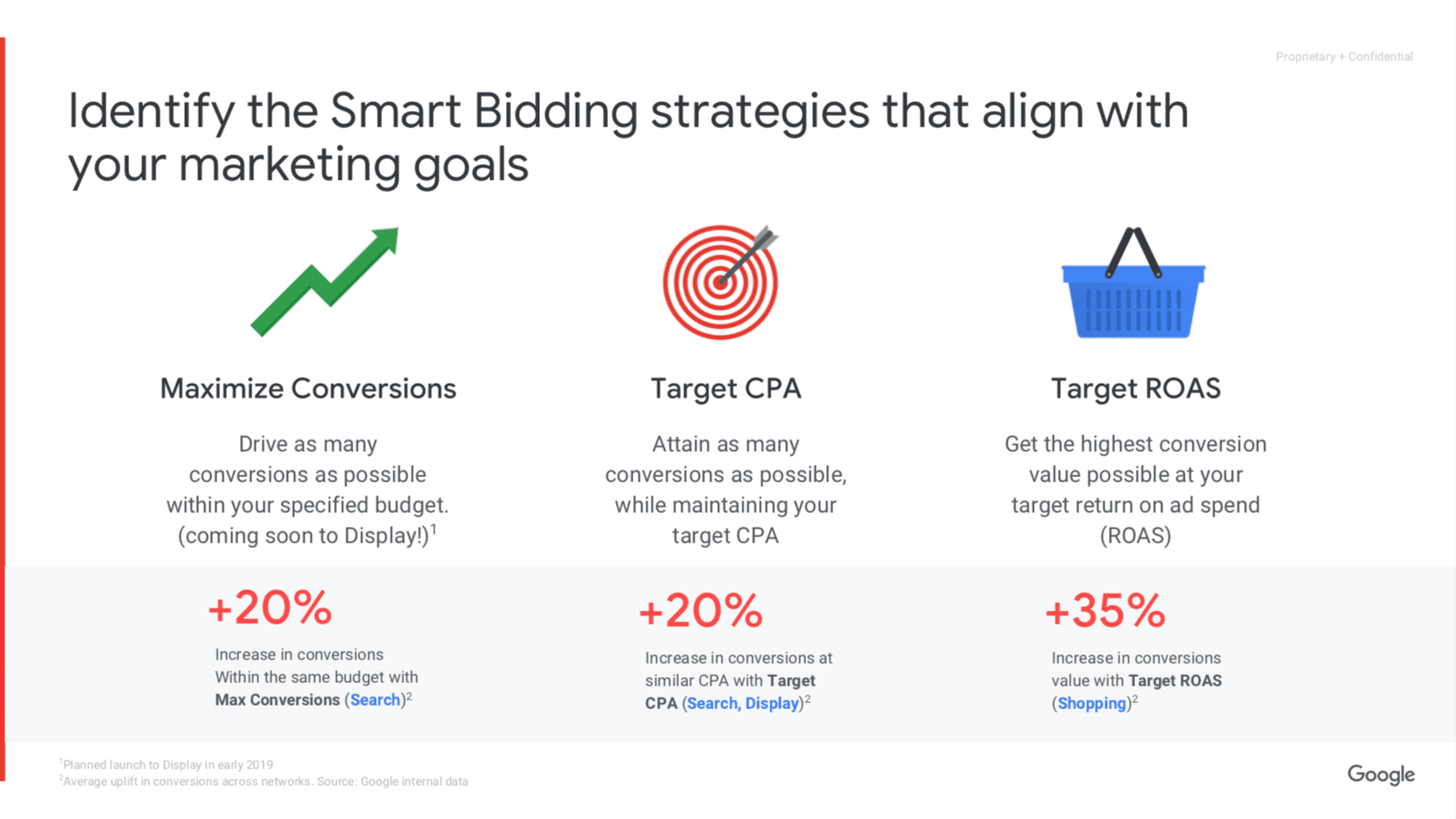 Bidding and bid strategy greatly impact how your campaigns perform and how visible your ads will be to users. There are several bid strategies for you choose from so you can decide which one is best for you. Some things to keep in mind are the performance of your bids, bid auctions, and the complexity of the user's behaviour when browsing for a product (Skillshop, 2019).
Automated bidding uses machine learning to help you in finding the right bid while giving you more time to run the important parts of your business. The bidding algorithms use precision when being triggered by signals of user's searches.
Bidding strategies can be awareness based to increase visibility, consideration-focused to generate clicks, conversion-focused, or revenue-focused (Skillshop, 2019).
Reach Valued Customers with Search Audiences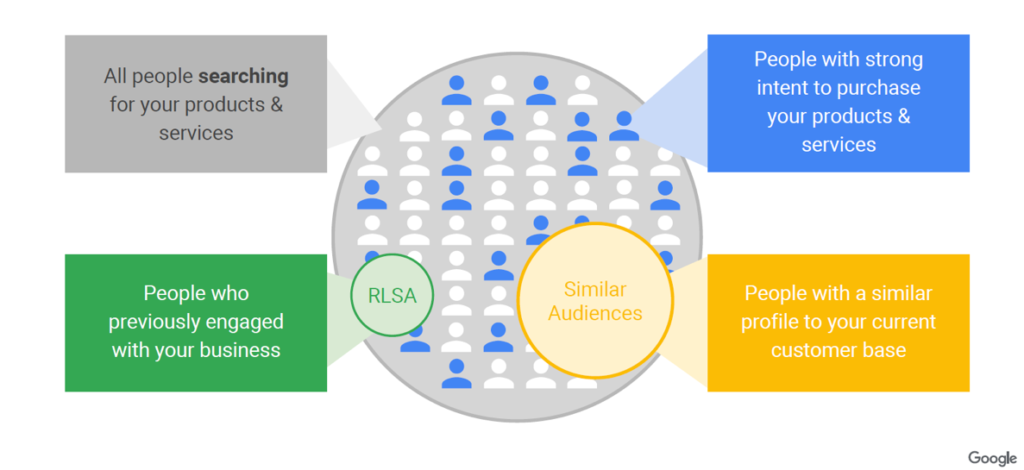 Google's Search Audience allows you to make audience lists and implement them into ad groups. This lets you have more creativity with bids and keywords based on these groups. With this, you can send the right message to the right people at the right time with the right bid (Skillshop, 2019).
They can also help you meet your marketing goals by creating awareness, driving consideration, and increasing purchases along with loyalty from existing customers. You can also different strategies such as variable bidding, keyword expansion, and creative customization to help you enhance the marketing experience (Skillshop, 2019).
There are also different types of audiences. Affinity audiences are ones who show an interest in any given topic, allowing you to tailor your ad towards them. Detailed demographics use information of the user such as education level, marital status, parental status, and more. In-market audiences are ones that are in the mindset to buy a product like yours; this allows the ad to target them and you gain a higher ROI through conversion (Skillshop, 2019).
You can also use remarketing lists for search ads (RSLA) made up of people who have visited your site previously, added items to their cart, or are new to your site. You can use their past interaction to target ads based on what they were interested in. This allows you to increase bids on certain audiences or decrease them, create ad groups with certain keywords, and exclude certain audiences from ad groups (Skillshop, 2019).
Customer Match lets you use online and offline data collected through CRM to target users at the right time and place. You can upload your own customer data to help Google aim your ads to customers who have converted in the past or have a high likelihood of converting. Meanwhile, Similar Audiences uses your remarketing list to find other users with similar interests to your existing customers (Skillshop, 2019).
Boost Performance with Optimization Score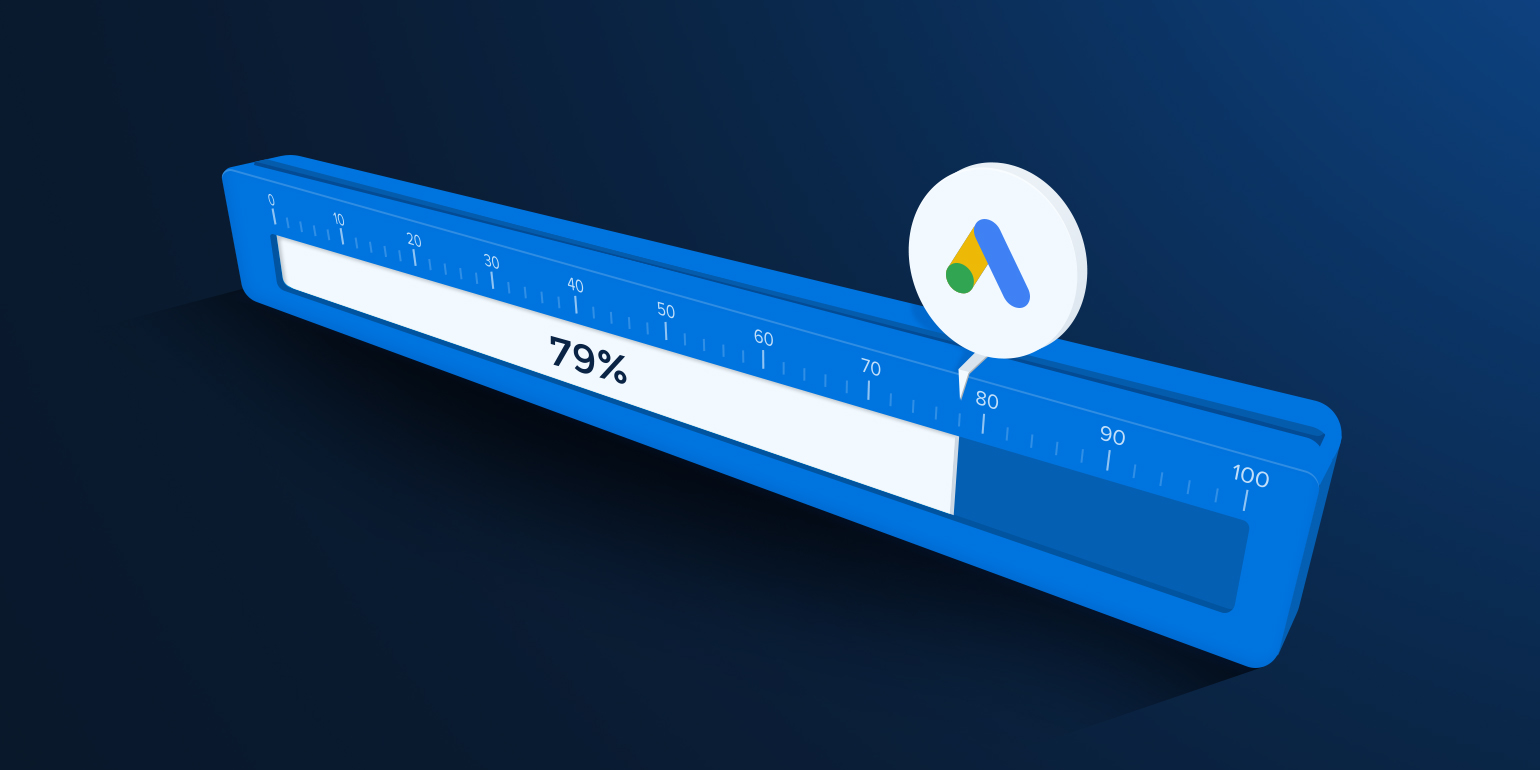 Optimization score is a percentage that tells you how well your ad campaign will perform. If you receive a low score, it gives you recommendations to improve it and get the most out of your campaign. It gives you real-time estimates, an opportunity to make instant changes, enhanced customization, and something measurable to look at (Skillshop, 2019).
The score is calculated through an algorithm that looks at statistics, settings, and industry trends to determine how effective your ad campaign will be. If a recommendation is seen to be more impactful, it will have a higher weight in determining the score. It is made up of over 50 recommendations to make the score as accurate as possible (Skillshop, 2019).
Increase Conversions with Performance Planner
By planning in advance, you understand future budgets, take advantages of seasonal opportunities, and find new opportunities to grow your sales. The Performance Planner is a tool that allows you to forecast the upcoming monthly, quarterly, and annual budgets for your campaigns. It works by using data and insights provided by Google to predict the results of having certain bids and budgets (Skillshop, 2019).
It uses simulations to forecast CTR, competition, and ad auctions. This is done through machine learning to make the forecasts as accurate as possible and uses backwards measurements to finetune future predictions (Skillshop, 2019).
Through Performance Planner, you can increase conversions and spend less by slowly increasing your conversion rate. The money you save can be spent on other parts of your business. Try to make use of Performance Planner often as it can work around seasonality, fluctuating auctions, and competition. It will provide you with recommendations to help boost conversions, ROI, and lower your bids. Make use of the data from previous periods to help you better forecast for the future (Skillshop, 2019).
Conclusion
Google Ads is a great way to get your brand out there in the highly competitive market. It is tailored to make advertising online as easy as possible and get your product or service noticed among thousands of others. Going through the skillshop, I learned not only how I can create ads, but also why I see the ads that I see. Google isn't reading my mind but they are using my online activities and habits to make my experience better!
After completing the Google Ads skillshops, you can attempt the assessment to gain a certification for Google Ads. I have included my own attempt results below, even though the outcome is not what I wanted. The assessment can be reattempted after 24 hours so if at first you don't succeed, keep trying!
References
Skillshop. (2019, September 7). Google Ads Search Certification. Retrieved from Skillshop: https://skillshop.exceedlms.com/student/path/18128-google-ads-search-certification